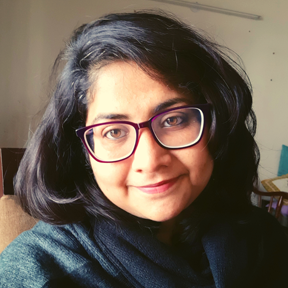 NVC Fundamentals
8 Week Series
The possibility of living nonviolently, of connecting compassionately with ourselves and others, exists in every moment. How can we bring this possibility into practice?
I invite you to an experiential learning journey through the essential elements of Nonviolent Communication (NVC), to strengthen the roots and foundations of our practice. In our eight weeks together, we will dive deeply into the fundamentals of NVC, with a parallel focus on process, purpose, and practice. I hope to co-create with you a meaningful and clarifying experience that offers a blend of experiential self-exploration, learning and sharing in a safe community learning space, and creativity and fun!
About Manasi
 

Manasi Saxena (CNVC Certified Trainer; Founder, enCOMPASSion) is a learning facilitator whose focus lies around the intersection of spiritual/personal growth and social change/community development. More recently, she has been engaged with emergency relief services after the violence in Northeast Delhi and during the Covid-19 lockdown in India. Her core focus now is to work closely with communities at the grassroots, with a vision of shifting from sustenance-survival to a paradigm of sustainability, collaboration, and resilience through community-driven social change.
Key Takeaways
You can hope to leave with:
An experiential understanding of Nonviolent Communication, its purpose, intention, and practice
Clarity and practice in the fundamental capacities of NVC: Observations, Feelings, Needs, and Requests
Self-empathy: How to come home to a point of balance and centering within myself, to respond, rather than react?
Empathy: How to listen empathically to another person without telling them what to do (and why would I do that in the first place!)?
Expression: How to speak my truth while still holding deep care and respect for the other?
And, how to dance in the flow of connection between empathy and honesty, between you and me!
Course Schedule
Week I: Introduction and Arriving
Week II: Intentions and Heart Awareness
Week III: Presence and Resonance
Week IV:  My Heart's Ears
Week V: Making Life Wonderful
Week VI: Coming Home To Myself
Week VII: Dancing in Communication
Week VIII: Gratitude, Celebrations, Mournings